The Rhynie Wifies and friends save Santa at the Ironworks in December 2013
Events 2014:
In January 2014, I made a trip up to Peterhead harbour and undaintily clambered aboard the Amity II, the fishing boat belonging toTrawlermen's Jimmy Buchan.  There a new signature dish, the Blue Toon Bree was cooked up by chef David Littlewood of the Kildrummy Inn inspired by local folklore, the Blue Toon's fishing history and images of Peterhead. The resulting show, "The Town Is The Menu" was played on BBC Radio 4 later on in the year and you can find out more by following this link:http://www.bbc.co.uk/programmes/b040hhnr
In March I was a guest at the Banchory Heritage Group.  I brought along some of my Iron Age kit and told a mixture of stories – some local, some with an Iron Age setting and some that are just my favourite.  A most enjoyable evening!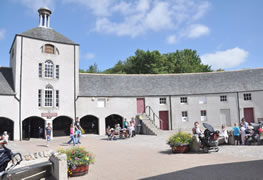 In May, I told local stories at Aden Country Park's "Our Story" event.  I also led a group singing Bothy Ballads – which went very well considering I only knew 3 of them off by heart and had to depend on the words!  Visitors also had the chance to write down their own stories from their farming past.
I was also involved in the Banff Coast Festival at the end of May – their theme was the Sea – so I did a few sea shanties too!
I was back telling stories at the Banchory River Festival at the start of June – one of my favourite locations! The museum and library always put so much effort in to their events and decorate the building to suit.  This year the theme was "The Muckle Spate of 1829" – so stories of stories of floods, fish, selkies and salty old seadogs were the order of the day!
Before I left to go to Glastonbury, I did an evening session at Midstocket Mews sheltered housing.  What an amazing time I had!  It was nice to get requested to sing a couple of Bothies too.  I love an audience that join in!
Glastonbury 2014 was amazing as ever!  I think it was the best one yet – I had a wonderful time in the Kidz Field telling stories with John Row, Donald Nelson, Christine Willison, Cath Little and others – and I was at the opening of the Kidz Field for the first time. Wow! Never has a fairy been high-fived so often in a one hour period.
Storytelling in the Green Futures field was also wonderful – and it was also a chance to sit back and listen to Christine and Cath's stories. A perfect festival – looking forward to the next one!
Straight after Glastonbury, I was back to one of my favourite places for the Burn o Vat Open Day.  I told my favourite nature and environment stories and it was one of the hottest days of the year! As the sun was out, I think it was only appropriate that I told "How The Raven Brought The Sun" – you can see Roxy the Raven helping me out in the photo.
Throughout the summer, Crathes Castle had been host to a number of storytellers.  On the 10th July it was my turn.  It was fantastic weather again and I had a great spot within the walled garden to tell a grand collection of Scottish Tales!
Another weekend, another Castle !  This time it was for the Rhynie Wifies – we joined The Devil's Horsemen, Comitatus and others at Castle Fraser for their Chariot event.  Usually at this time of year we're a little out of the time period as Castle Fraser put on their Medieval Jousting Tournament… but to be back in amongst the Romans ?  We felt right at home!
In September I was fair chuffed to win the TMSA Kirriemuir Folk Festival Storytelling Cup with my version of an Estonian tale called "All Three!"  All cup winners are asked to take part in the Cupwinners Concert in the evening and I also got the runners-up cup for being the most entertaining at the concert.  (Well, it is one of my favourite stories and I do enjoy telling it!)
On the 4th October I was invited to do a turn at the TMSA Cookney Meal and Ale – another richt enjoyable evening!
I ended the year by visiting Arduthie Primary School in Stonehaven – Miss Philips class had been doing a project on Scotland so I was all to happy to bring some traditional Scottish stories to them.